Kia Kicks Compact Sedans Up Another Notch with New Sporty and Sophisticated Kia Forte

The new 2019 Kia Forte Sedan comes cruising into its third generation in Portland with a bang. The sophisticated design and driver-centered features are only the beginning. Designers have made Forte more comfortable than ever, and taken a car that was once only ideal for your Portland commute and made it perfect for any walk of life. It feels more upscale and driver-friendly, even for the long-haul of a cross-country trip. The bold appearance is notable, but changes inside make all the difference. The EPA marks improvements on fuel economy, and Forte also sports the first-ever in-house Kia designed smart transmission.
Desirable amenities start at the base model, FE, but expand throughout the line-up of LXS, S, and EX.
Portland Loves the New Stinger-Inspired Look of the Kia Forte Sedan
Third generation Forte keeps it's reputation for sporty youthfulness, but it has also become more sleek and well-rounded thanks to subtle design improvements. Many of the design elements have been inspired by Forte's cousin, the sporty Stinger fastback. Stinger has lauded rave reviews on design and performance. The team of Kia designers took elements of Stinger's sense of adventure and translated them to make sense for the 2019 Kia Forte. The marriage of sport and practicality is one we know Portland Kia commuters will fall head over heels for.
A more creased hood translates into a more muscular frame for Forte, while the redesigned grille and lower stance add to the sporty appearance. LED headlights perform beautifully, and are shaped in a Stinger-inspired fashion. The rear bumper has a subtle makeover, with a sleek trim connecting the (also revised) rear lights and signals. Overall, the 2019 Kia Forte sedan offers Portland drivers a more exciting look than your average commuter.

New Kia Forte Sedan Upgraded Build Brings More Space
Kia has expanded upon the already-proven structure of the 2018 Forte, which garnered a Top Safety Pick+ (highest) rating from the IIHS (Insurance Institute for Highway Safety). The 2019 model is made even stronger with Advance High-Strength Steel. Full projection LED headlights can make or break a car during IIHS and NHSTA (National Traffic Safety Administration) testing. Luckily, Forte has already received glowing reviews from this year's model, which has only been improved. The future is bright in a Forte!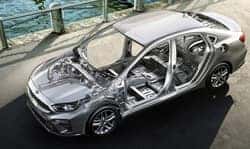 Expanding the frame in the fastback shape gave Kia engineers the opportunity to capitalize on growth in cabin and cargo room, creating a more comfortable Forte. Leg room and rear cargo are increased by 3.2in. With 15.3 cu. ft. of cargo room, Forte sits among the largest cargo in the class. This car can accommodate 4 adult friends hitting the road for a long road trip just as well as it can manage a busy family with two carseats in tow. Why not have it all. The overall height and width have also noticeably increased for a roomier cabin.
Portland 2019 Kia Forte Drivers Will Appreciate the Innovative Powertrain Technology Kia Offers
Beneath the hood, the 2nd generation 2.0L 4-cylinder engine dwells, utilizing Atkins Cycle and EGR. These features are typically reserved for hybrid and electric vehicles, but can be used on traditional models to boost economy and efficiency in many driving situation. Drivers can choose between a 6-speed manual transmission, or take advantage of the first-ever in-house Kia designed IVT (Intelligent Variable Transmission). This is one of the first of a new style of powertrain the Kia will continue to run with in the future.
Forte achieves 147hp and 132 lb. ft. of torque, and achieves an estimated EPA rating of 31mpg city, 41mpg on the highway, and 35 mpg combined with the IVT system (standard automatic on Forte). These are mpg improvements across the board, and excellent among the segment.
New Kia Forte Sedan: Sportier, More Comfortable & Loaded with Tech
Forte allows the driver to stay connected with life and the road ahead with many excellent features overall. Standard, Forte comes with an 8-in. color touchscreen with Apple CarPlay® and Android Auto®. It's integrated into the dashboard seamlessly, and has a driver-centered placement. The system can read text messages to you out load from most popular smartphones via Bluetooth to keep your eyes on the road. Wireless charging is also available.
Harman/ Kardon teamed up with Kia for an improved sound-system that pumps out a whopping 320-watts through an 8-speaker sound-system. It includes a new patented music restoration technology that restores frequencies lost during digital compression. Hear your favorite band like never before – literally!

2019 Kia Forte Sedan Still Topping the Safety Charts
Many Kia Drive Wise features come standard on all trims, and a few are optional. For the segment, Kia is on top in safety, particularly in regards to what comes standard. Here are the features you can find on a new Kia Forte (some optional):
Forward Collision Assist
Lane Keeping Assist
Driver Attention Warning
Forward Collision Warning
Lane Departure Warning
Smart Cruise Control
Rear Cross Traffic Collision Warning
We Know Where You Can Find the Redesigned New Kia Forte in Portland
If you're looking for this incredibly redesigned Kia Forte sedan in Portland, , we are excited to let you know that we will have it! The 2019 Kia Forte offers something for everyone and we think it might just be the car you need at the right price. Kia of Portland is ready to answer any questions you may have about the new 2019 Forte sedan.