2018 Kia Niro Has Portland Kia Lovers Excited for Prestigious IIHS Top Safety Pick+

2018 Kia Niro Has Portland Kia Lovers Excited for Prestigious IIHS Top Safety Pick+
If you've heard of Kia Niro, you already know it's an amazing compact SUV, but Portland drivers will be wowed by the second generation model- 2018 Kia Niro Hybrid. It received an outstanding safety rating from the IIHS, and has updates throughout that make it even better than its predecessor. High-tech crash prevention, powerful beam headlights, and reinforcements to the overall strength and integrity to the build of the vehicle on all sides help Kia Niro bring home the Top Safety Pick+ rating- the highest honor awarded by the IIHS (Insurance Institute for Highway Safety.) Niro also garnered top ratings for a passenger small overlap front crashworthiness testing, which is currently required to be considered for the Top Pick.
New Kia Niro Stands Up to Portland's Unique Weather Like Never Before!
The new Kia Niro stands up to Portland's wet weather like never before with safety features designed to stop crashes before they start. When it comes to stopping crashes before they happen, drivers in the Pacific Northwest precipitation (and Portland traffic alike) will love a feature like automatic emergency braking. This feature avoided collisions during crash testing at 12mph, as well as all the way up to 25mph. Automatic Emergency Braking that has your back on your commute comes standard in the Touring package, but is also optional on Kia Niro LX or EX.

Headlights Can Make or Break the Test & New Kia Niro Makes It!
Surprisingly, the most grueling category of the IIHS testing is headlights, and this part of the testing has excluded many fantastic new vehicles in the SUV market from earning Top Safety Pick+. Fortunately for fans of Kia Niro, HID (high-intensity discharge) headlights light the way. When the Premium EX trim was tested on top of the Touring package, the HID system brought home the highest possible good rating, insuring its high accolades. Note that the standard halogen bulbs did not test as well. If exceptional lighting is a high priority for your drive, consider one of the many affordable options of luxury trim.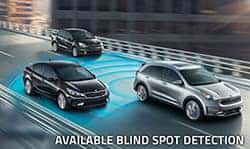 It's easy to forget just how eco-friendly Kia Niro Hybrid is, because it just doesn't look like a hybrid. Still, even with the prowess and looks of a gorgeous SUV, it beat out Toyota Prius and Hyundai Ioniq. In part this was thanks to its strong display in the headlight testing, which has been under increased scrutiny after a rise in pedestrian road deaths and hit-and-runs. In a vibrant city with as many bikers and pedestrians as Portland, this may be a priority that means a lot to a hybrid buyer.
Though the Kia Niro plug-in hybrid didn't test as remarkable as other packages, its top-trim headlights have yet to be evaluated as of late. It's competitors like Prius Prime and Chevy Volt currently have Top Safety Picks (sans +), and as further testing takes place, it could also gain a leg up.
New Kia Niro Expected to Pass NHTSA Safety Tests with Flying Colors
Although models of Kia Niro have been tried in the fire of IIHS testing, the NHTSA (National Highway Traffic Safety Administration) has not yet conducted crash testing on any Kia Niro model, including 2017. However the hybrid crossover has been tested with unreleased information to date. The outcome is expected to be positive, as in general the NHTSA is less stringent than the IIHS.
You can think of the IIHS testing as a competitive reality show for cars in the same class. The longer it stays in testing, the harder the tests become, and the more less-worthy competition is eliminated. In order to garner the Top Safety Pick+ rating, a vehicle goes through a series of six tests for crashworthiness:
Driver and passenger side small overlap, front
Moderate overlap front
Side
Roof strength + head restraints and seats
Crash avoidance and mitigation
Good rated headlights
Portland is Confident the New Kia Niro was Designed with Top Safety in Mind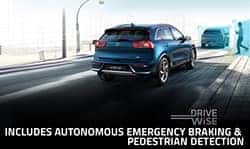 All of this stringent testing offers confidence to the Portland driver who is looking for a great SUV that will keep them and their loved ones safe. Not only does 2018 Kia Niro look great, offer incredible high-tech features, great cargo capacity, driving capability, and so much more- you can be sure that you're driving Top Safety Pick+. Kia Niro becomes and obvious choice when you pair that confidence along with how good it feels to have a hybrid option that doesn't look like a hybrid, or lack space for fun and family.
Kia of Portland Takes Your Safety Seriously & Would Love to Show You How the New Kia Niro Can Keep Your Family Safe
Here at Kia of Portland we look forward to more testing from other worthy institutions now that the bar has been set by the well-respected IIHS. If getting that incredible SUV with 100% safety confidence is your main goal, explore trims like EX and Touring as the hybrid and plug-in models catch up in the testing categories. In general, though, 2018 Kia Niro gives Portland Kia fans an incredible line of compact SUVs to choose from. Stop by Kia of Portland to learn more about the all-new Kia Niro, and take one for a test drive to see for yourself. You don't have to sacrifice safety or green-living to have a fantastic SUV. Drive your IIHS Top Safety Pick+ 2018 Kia Niro home today.