Kia Stinger Wows Reviewers and Takes Portland Drivers By Storm

Kia Stinger was revealed last year in 2017 to positive reviews, but I don't think anyone was expecting this South Korean sports car with American hotrod personality to actually rival BMW and Audi of its class… at a fraction of the cost. Surprise though it may be, it's a welcome one for Portland Kia fans and dealers alike. New to the Kia line-up and the Stinger is already winning awards.
The Details Portland Kia Stinger Buyers Want To Know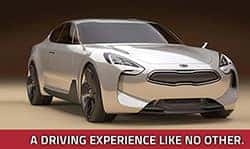 The new Kia Stinger is a car Portland drivers are getting excited about, and we've got all the details. 2018 Kia Stinger starts at a base price of an affordable 4-cylinder $31,900, but can be optioned to the max for around $52k— all well beneath the price range of comparable German makes.
The Kia Stinger car comes in with sleek sportiness. It has the sultry glow of a mid-life-crisis hotrod – and certainly the speed to back it up – but it looks refined, professional and luxury enough for your daily professional life. Business on the surface, party under the hood- that's what you'll find with Stinger.
Stinger Has Portland Exclaiming, "Is That A Kia?!"
Let's start with the wheels, shall we? Kia's design team is headed up by Peter Schreyer who strived to liken Stinger to the grand-touring Euro makes of its class. There's been a story floating about that Schreyer owns a Stinger himself and was once stopped by German authorities… just because they wanted to take a closer gander at the sporty sedan for themselves.
That brings us to a disclaimer – If you're going to purchase this car for your everyday Portland commute, don't be shocked if the person next to you at the red light stops to ask "Is that a Kia!?" – It will probably happen.
New Kia Stinger Looks as Sexy as It Drives
Moving on to the body style of 2018 Stinger, we see that it's a four-door fastback sedan, with a sleek slope of the roof and a Euro-sporty back hatch. It's well proportioned and balanced, sitting low and mean. Stinger is designed for those who love to drive and look good doing it. As we come around the front end, you see sporty vents that give it a tough, athletic shape and feel, but not too aggressive for everyday driving. Have your weekend and your workday, too.
Slip Into Luxury Behind the Wheel of the New Kia Stinger in Portland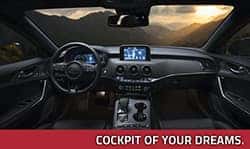 When you slide behind the wheel of 2018 Kia Stinger in Portland, a remarkable interior engulfs you with all the creature comforts. A leather wrapped steering wheel speaks to luxury right away. The dashboard cluster leans vintage Euro-sport and analog, which allows it not to distract from the sleek appearance of the interior. The new Kia Stinger is  fairly minimalistic, and while it's sporty, it also feels grown up and professional.
The Stinger has been reviewed by drivers as being ergonomically comfortable, with features that are functional and intuitive. Though it's a low-sitting car and on the smaller end of the spectrum for a sedan, the backseat easily accommodates adult passengers and the hatch space isn't anything to sneeze at, either! Your new Kia Stinger is ready for a long weekend with a couple friends and a few suitcases in tow. In the rear, substantial quad exhaust pipes remind us that this car isn't all business… but it is all grown up.
2018 Kia Stinger Makes Your Portland Commute Feel Like Anything But Work
The Stinger comes with Kia's custom infotainment system, UVO. As with the overall theme of the interior, it is not fussy and only enhances the entire driving experience.
The audio system is a gift to lovers of music and driving. The Harman Kardon audio that comes in some models sounds incredible, and the car's integrated navigation is accurate and easy to use. This car is geared up for hands-free talking and pairing with Bluetooth tech, so you can focus on loving your drive.
2018 Kia Stinger: Built For the Track Designed for the Road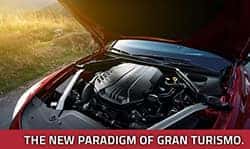 So we've gotten to the good stuff, but let's get to the really good stuff. Under the hood we have 3.3-L twin turbo V6. This mean machine makes easy work of 365 horses and 376 lb. ft. of torque power. Turbo lag? Nope, not here.
Stinger's performance power is, in a word, joyful. It drives tight with excellent communication with the road and a rear wheel version should be hitting the scene soon for a different take on anti-slip handling. When testing 0-60, it gets there in 4.5 seconds. Yep, this car is on the map. Look out, Audi! Kia has your number.
This beast of a transmission is an 8 speed automatic, but you can, of course, go manual in true sporting fashion if you wish to do so with convenient paddle shifters. Eco, Sport, Smart, Comfort, and Custom driving modes let you decide. Comfort and Eco modes save you a bit on fuel economy, and in driver reviews, they have faired well for performance compared to the more aggressive modes.
Best Place in Portland to find a New Kia Stinger
All the way around, this car is one Kia is proud to have in its line up, and we have too much fun showing and testing Stinger with Portland buyers. Think you might like to take a spin in a new Kia Stinger? Trust us, you do.