The In-Depth Review of New Kia Rio for Portland Kia Drivers

With a base price under 14k, a peppy engine, and fantastic style and economy, what's not to love about the new Kia Rio?
What's New in 2018 for Portland Kia Rio Drivers?
Portland new Kia Rio drivers can expect to find a lot of new features. Kia has revamped the Rio for the new model year. It's base offers better fuel economy than predecessor, the standard features list grows significantly, and so much more! A 5-in. touchscreen display and power door locks have been added, as well as Apple CarPlay® and Android Auto®. Safety features like Forward Collision Warning and AEB are new for the 2018 Kia Rio as well!
New Kia Rio Gets an Interior Update with Plenty of Features for Your Pacific Northwest Roadtrip
If you're worried about taking your 2018 Kia Rio on your next Pacific Northwest roadtrip, don't stress it! The new Kia Rio is spacious enough to seat 5 people and has great versatility for a subcompact model. The driver's seat adjusts 6 different ways, allowing big and tall drivers to get comfortable in an economic car. There's plenty of headroom and legroom in the front and the back seats are perfectly comfortable for children and average size adults.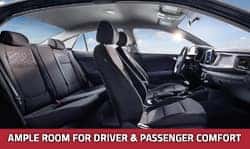 Your new Portland Kia Rio comes with an ample amount of LATCH attachments for child safety seats, and overall the safety for child passengers in the backseat has been praised by the IIHS.
The interior is made from high-quality materials that are easy to clean. The base model is truly basic, having a slim array of tech features, but it's nice to have that option for a no-fuss driver. The higher trims have all the bells and whistles, such as display, Apple and Android pairing, and powered features.
The cargo space is ample with a 13.7 cubic ft. trunk, making it more spacious than Ford Fiesta and Honda fit.
2018 Kia Rio Infotainment Array Makes Your Portland Commute a Cinch
With the infotainment features offered on the new Kia Rio, your Portland commute just got a lot more fun. The new Kia Rio offers a wide selection of technology packages with the different trims in 2018. There are options for a 5-in. touch display and XM radio. At the top of the heap, the EX trim has a larger touchscreen and more ways to pair your Apple or Android device for hands free talking, listening, and navigating. The interfaces are state-of-the-art, but very pleasantly minimalist and easy to use, making them driver-centric and not distracting.
New Kia Rio Performance is Surprisingly Peppy for a Compact Car
Rio comes with a peppy and surprisingly powerful 4-cylinder engine. The fun you will have on your Portland commute in the Rio will make you smile! Getting up to interstate speeds, passing, and climbing are no problem in this small Kia car.
When it comes to gas mileage, you are getting fantastic bang for your buck. Not only is this car extremely affordable to purchase, but it will continue saving you money with estimated 28mpg in the city and 37mpg on the highway! That's some serious mileage.
Rio is more athletic than competitors at this low price point in the subcompact world. Drivers who want a bit of pep and sporty personality will rejoice in the firm suspension and agile handling of the new Kia Rio.
Safety First Approach: 2018 Kia Rio Ranks Well in Its Class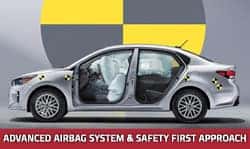 Even the base trim level of the new Kia Rio ranks well in its class on safety. As always, Kia maintains a safety first approach on their new cars and the Rio is no different.  On higher trim levels some features become available at a surprisingly affordable price point. Safety conscious Portland Kia Rio drivers will appreciate these features, such as: rearview camera, AEB (automatic emergency braking), and forward collision warning systems.
Upgraded technology in the Rio EX includes the intuitive UVO infotainment interface, a 7-inch touch screen, voice recognition, Android Auto®, Apple CarPlay®, automatic emergency braking, and forward collision warning. This trim also features premium cloth upholstery.
Which Trim of the 2018 Kia Rio is Right for Your Portland Lifestlyle?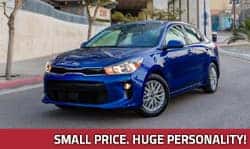 The new Kia Rio is bolstered by the fact that it's one of the highest quality sub-compact cars you can buy today with one of the lowest prices. Retail for a new Kia Rio sedan start just below 14k, but go up to 18k with higher trims like the EX. Rio comes as a hatchback, as well with a similar price range.
Rio comes in three versatile trim options, ascending in levels of luxury, safety, and convenience. Also, these models come in hatchback options for a bit more boot room. For example, you can go from the base sedan to the base hatchback for only around $300!
Trims:
Kia Rio LX- $13,900 (manual price)
Kia Rio S – $16,100
Kia Rio EX – $18,400
There's a 2018 Kia Rio for everyone! From no-fuss to luxurious economy. Find out which one is perfect for you and your family!
Looking for a reliable small car in Portland? Her Name is Rio!
At the end of the day, if you are a Portland driver looking for a capable, spacious, fun, and affordable subcompact car, the new Kia Rio should be high on your list. Drive one today! We know you'll fall in love with this model- the perfect meeting place of play and practicality.