Portland Drivers Knows Why Kia Continues to Climb The Ranks

The secret Portland Kia drivers have always known is out. Kia is consistently rated as one of the absolute best car-makes on the road, giving you amazing value for your money, as well as peace of mind in your drive. Portlanders love Kia, and that's no mystery. But why all the love? Kia's driver-centered updates, passion for top-of-the-line safety, and commitment to offer trims to fit many various needs and budgets leave little wonder why Kia has been ranked as one of the best makes on the market.
If you are shopping for a new car or SUV, here's a thorough breakdown of the most notable improvements to each car in this year's Kia line-up. Kia never stops working to improve your Portland drive.
2018 Kia Rio Gets a Makeover
Kia Rio has undergone a redesign process, and is now offered in 4-door sedan and 5 door hatchback styles. There is added passenger and cargo room, and new and improved available features like UVO3 infotainment, Apple Car Play®, and AEB (Automatic Emergency Braking.)
What's New On The 2018 Kia Forte?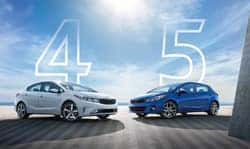 Though Kia has discontinued the Forte Coupe, the sedan and hatchback models of Forte offer Kia drivers a lot to love. Cruise control is now standard on all models this time around, and luxury trims really up the ante when it comes to features. The LX Sedan Popular Package offers more smartphone integration than ever with driver-centered UVO3. LX Hatchback Popular Plus package offers a stylish new wheel design, LED lighting and an improved leather wrapped steering wheel. The S trim also garnered new wheel designs, with some packages in the S trim family getting a sunroof. EX offers blindspot monitoring and other bonus safety features that help you drive with peace of mind.
Portland Kia Drivers Love the New Optima Features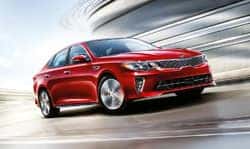 Optima has been a standard for Portland Kia lovers for a long time, and in 2018 more features that matter to you come standard than ever before. UVO infotainment, as well as blindspot monitoring, parking assist, and rear cross traffic assist are all standard Optima features. LX Convenience package offers a new 10-way powered drivers seat to optimize comfort and reduced wind noise, while the LX Turbo adds the same, but with a heftier engine package. S trim has a panoramic sunroof, but also a 4-cylinder engine that is unique in the Optima line-up. There's an Optima for everyone.
Portland Family Favorite Kia Sedona Takes Convenience to a New Level
Kia Sedona, a family-favorite that sweeps up awards in safety and convenience, has changed little since last year, but continues to add convenience features, as well as two new colors to choose from: a unique Silky Silver and a Celestial Blue.
2018 Kia Cadenza Remains the Luxury Sedan Portland Has Always Loved
Portland has always loved the Kia Cadenza and the 2018 Kia sedan ensures Pacific Northwest drivers continue to get the luxury sedan they cherish. Cadenza keeps updates simple, due to a great winning streak in 2017. Premium trim adds LED lighting and a panoramic sunroof to amp up your Portland commute.
New Kia Stinger Is A Proven Show Stopper in Portland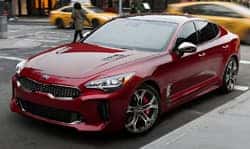 The Kia Stinger, Kia's prize-piece sporty machine, is a luxurious touring vehicle, and worth every word of hype surrounding it. The V-6 turbocharged 3.3 L engine offers you 365hp. You can select rear or all wheel drive, and the trims Kia has introduced for your driving pleasure range from standard, Premium, GT, GT1 and GT2 editions, going up in sporty luxury. This is a can't-miss showstopper. Learn more about what the new Kia Stinger can offer the Portland adrenalin driver.
2018 Kia Soul: Still Keeping Portland Weird
The base trim of Soul now includes automatic climate control, infotainment suite, and smartphone pairing. The Plus trim gains the same with more extras, and Plus Primo Lit package replaces last years Primo package adding safety features. With Plus Primo Lit, you'll get adaptive cruise control, AEB, and new LED headlights. The Soul EV electric model's charged electric driving range gains almost 20 miles with a more powerful battery.
Road Trip Ready New Kia Sportage is Portland's Go-To SUV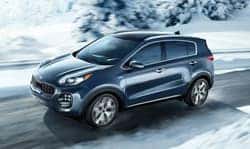 The 2018 Kia Sportage stands road trip ready for adventurous Portlanders. Sportage has family life in mind with stain-resistant materials now coming standard. The LX Technology package gets serious about safety with AEB, blind spot warning, rear cross-traffic alert, lane departure warning system, and new powered side mirrors with turn signals built in. The LX Popular Package has many of the same upgrades, but with a heavy focus on infotainment and pairing upgrades and eServices, as well as a unique cabin ionizer. The EX Technology Package adds heated rear seats and AWD. EX Sport Appearance package offers just what the name implies- many trim options for a sportier, tougher exterior, as well as a racing-inspired paddle shifter in the cockpit.
Eco-Friendly New Kia Niro Is Portland's Hybrid Crossover Choice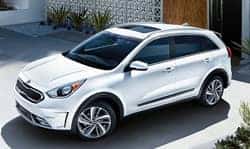 Portland is an eco-conscious city that is impressed with the eco-friendly new Kia Niro.The new Kia Niro is a first-ever crossover newer to the Kia lineup, back with fabulous, driver-focused updates. The plug-in hybrid offers up to 26 miles of electric-driving range and a whopping estimated 46mpg in combined gas/electric driving. Niro Plug-In Hybrid will charge overnight in 9 hours at home, but with a specialized wattage charger, it will be good to go in as little as 2.5 hours. The plug in Hybrid is available in several various trims, such as EX, LX, and EX Premium. The standard 2018 Niro comes in all of those same trims, plus FE and Touring. The EX Premium package is actually new to the line-up, and is essentially a go-between for fans of the Touring model that don't want the larger wheels. The Touring edition has a new blackout model, as well as more standard safety features than ever.
2018 Kia Sorento: A Capable SUV for Portland's Unpredictable Weather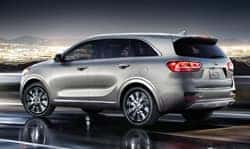 The 2018 Sorento offers Portland Kia owners new features that provide peace of mind in our unpredictable Pacific Northwest weather. Sorento has upped the headlight game, a common improvement to garner the best safety ratings, as headlights from many carmakers often fall short in safety testing. All standard Sorento models now have a reverse camera and automatic lights. The LX trim has standard AWD and third-row seating. EX trim gains a hands-free lift-gate, power side mirrors, dimming rearview mirror, and new instrumentation. AEB (Automatic Emergency Braking) is standard on the EX Advance Touring edition. SX has unique rain-sensing wipers, perfect for Pacific Northwest living, as well as many of the same features of the other trims.
This Year There Is A New Kia For Every Portland Lifestyle
Kia of Portland is proud to offer a new Kia car or SUV for every lifestyle. We invite you to stop by and take a spin in the new eco-friendly Kia Niro or the adrenalin pumping Stinger. From family-friendly Kia Sedona minivans to zippy commuters like the Forte and Rio, your Kia dealership in Portland has what you need.