Portland Kia Sportage – Adventure Ready. Better than ever.
Portland loves adventure and the new Kia Sportage stands ready to deliver, from your morning I-5 commute to the slopes. If you're in the market for a compact SUV, the 2019 Kia Sportage ought to be at the top of your list. It features a lower base price than most other competitors and doesn't skimp on the features, making it a best-in-class value.
Wondering how the New Kia Sportage Performs on Portland's Busy Streets?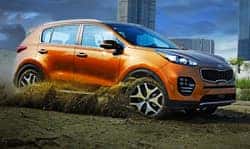 When it comes to power, there are a couple options for your Sportage. The standard engine provides 181 horsepower from its four cylinders, but if you want some extra pep, the SX turbo upgrade will raise the horsepower to 240. While neither engine makes the Sportage quickest-in-class, they both provide a nice sporty ride. Most drivers will be quite satisfied with the base engine.
Though it may not be the fastest compact SUV, the driving experience the new Kia Sportage providesPortland drivers is very pleasant. Handling is crisp and the ride is smooth and forgiving, and overall the Sportage provides a feeling of luxury that reminds the driver of cars far exceeding its price point.
Kia's Dynamax™ All-Wheel Drive (AWD) system automatically adjusts when it senses changing weather and road conditions. Available on all trim levels of the 2019 Sportage, it's an important feature 2019 Portland Kia Sportage owners have come to rely on.
The Sportage's MPG is somewhat below average for the compact SUV class, but certainly not the worst either. Average figures are reported to be about 22 MPG in the city, and 29 MPG for highway driving.
2019 Kia Sportage Is As Comfortable on the Inside As It Is Sleek Outside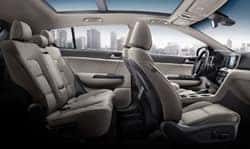 The Sportage has seating enough for five in great comfort. Its seating ranks among the best in its class for both comfort and space, with both rows having enough room for adult passengers. All the seats have full latch connectors for child car seats, and are rated acceptably by the Insurance Institute of Highway Safety (the second highest rating available).
The Interior of the Sportage is sure to impress even the most discerning buyers. With its minimal and quiet road noise and the understated and luxurious interior, it gives the feeling of a luxury automobile more than a compact SUV. However, don't mistake this for a lack of utility – even though the cargo space available is not as extensive as some of its competitors, the Sportage provides a very usable 31 cubic feet with all seats occupied and over 60 cubic feet with the rear seats folded down.
The appointments of the base-model Sportage include some very nice features as standard such as a rearview camera, six-speaker audio system, satellite radio, Bluetooth, a USB port, and a 5-inch touch screen. But it doesn't end there – available upgrades include a panoramic sunroof, Android Auto®, Apple CarPlay®, satellite navigation, Harman Kardon audio system, and the UVO infotainment system with a 7- or 8-inch touch screen.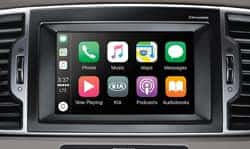 The UVO Infotainment system is easy to use and adds a lot of nice functionality to the Sportage. Very quick and responsive to input, the system is angled for easy access from the driver's seat and also provides redundancy and quick access to the audio and climate control systems. Kia's UVO Infotainment system is among the highest rated and Portland Sportage commuters will appreciate the ease of use from map directions to your favorite tunes.
New Kia Sportage Gets Your Family to Work or Play Safely
With its increidble five-star crash test rating from the National Highway Traffic Safety Administration, the 2019 Kia Sportage is a truly excellent choice for anyone looking for an automobile which will keep you and your family safe. In addition to the standard rear view camera, available safety features include blind spot monitoring, rear cross traffic alert, automatic high beams, front and rear parking sensors, lane departure warning, lane change assist, and automatic pre-collision braking.
A Few Words About Kia's Incredible Warranty on the New Sportage
With a J.D. Power predicted reliability rating of 4.5/5, the 2019 Kia Sportage is an excellent choice if you want a compact SUV you can depend on. Kia provides the vehicle with a five-year/60,000 mile warranty as standard, and additionally a 10-year/100,000 mile warranty for the Powertrain transmission – one of the best and longest warranties available in its class.
2019 Kia Sportage Trim Levels Available for Portland Buyers
There are 3 trim options you can chose between when looking for the right 2019 Kia Sportage model for you. LX, EX, and the high-performance SX Turbo. All trims have available AWD, which is a feature we often look for with our unpredictable Portland weather . The SX Tubro is namely the only model that boasts the 240-hp Turbo – 4 engine. If you don't want or need the turbo engine, the trim preference just comes down to features and tech. LX trim offers all the obvious features that Kia drivers want, but EX offers a bit more when it comes to driver assistance, convenience and connectivity for your Portland commute. It is a great value, because it comes in between the two trims, but much less than the Turbo model.

Check out Kia of Portland to Test Drive Your New 2019 Kia Sportage Today
Want to check out the 2019 Kia Sportage trim levels and find your perfect fit? Get behind the wheel of Sportage today at Kia of Portland. Fall in love with your next family car, and find the right model for your life.