Portland Celebrates Another Kia JD Power Win with the Stinger

Kia Celebrates an Overall 8-Point Score Increase from JD Power and Associates, Due in Part to Stinger's Impeccable Performance!
Kia firmly keeps it's place in the Top-10 Premium brands. Below we review Kia Stinger, an award-winning model that bolsters the line-up. Portland loves this car!
Kia awards bolster Stinger
Soon after the launch of 2018 Rio and Stinger, Kia Motors of America earned two additional JD Power and Associates Automotive Performance and APEAL (execution/ layout) awards to bolster the new lineup. Winning big for these two increased Kia's score by an overall 8 points since the previous season, helping to firmly solidify Kia as a top-10 premium brand. This follows Kia being ranked highest in mass-market brands. It's a great time to drive a new Kia Stinger in Portland with Kia's fourth consecutive win in the JD Power small car segment.
Whether drivers are looking for a practical and economical car with great gas mileage, or a sporty machine with up to 365hp with Stinger, Kia aims to be the brand you keep coming back to.
J.D. Power's APEAL scoring is a read on a new car owners complete range of satisfaction with their purchase during the first 90 days of ownership. Results span 10 important categories that matter to car shoppers: exterior, interior, fuel economy, audio, storage, seats, heating and venting, driving dynamics, visibility, and powertrain. Here, we dive further into just one of Kia's sedan line up, the sportiest and meanest of all – Stinger.
Why Do Portland Kia Drivers Love The New Stinger?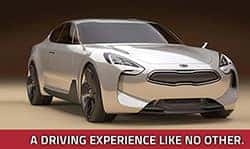 Sleek styles, rave reviews, and surprising speed give Kia Stinger an edge on competitors when it comes to premium domestic brand sports cars. The hatchback sedan design creates a roomy interior and great cargo room, but despite the ample size, it has impeccable performance. The powerful twin turbo V-6 under the hood speeds things up with plenty of power to go around. Stinger is quick, comfortable, and a great value that isn't far removed from German competitor sports sedans.
It doesn't matter if waking up Sunday morning means a pleasurable back road drive to breakfast or church, or if it means heading to the racetrack. Stinger is ready to take Portland drivers there. It's a dynamically powerful, surprisingly comfortable, engaging sports car. With your choice of a four-cylinder or V6 engine, both are ready to get you 0-6 with the slightest touch. It's handling reviews as one of the most beautifully athletic in the domestic class, and its fuel economy doesn't entirely disappoint. This is the ideal car if you want 365hp that won't break the bank, great looks, and a car that is still comfortable and spacious enough to bring along the family.
The Power of the 2018 Kia Stinger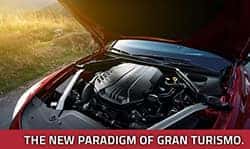 Stinger and Stinger Premium come standard with a 2.0-liter four-cylinder engine that's paired with a capable 8 speed automatic transmission. The paddle shifters leave the driver in charge of automatic or manual changes, and it comes with a twin-scroll turbocharger. This standard Stinger comes across the finish line at 255hp. For a big notch up in speed and powertrain, the twin-turbocharged 3.3 liter V6 is a meaty ride that can get you 0-60mph under 5 seconds. It makes use of the same 8-speed automatic. Fuel economy for your Portland drive ranges from 22pmg city to 29 highway on the 2-liter, and 19mpg city and 25mpg highway on the 3.3-liter engine respectively.
Portland Agrees Kia Stinger Interior & Features are Unique for a Sports Car
When you slip inside Kia Stinger, you'll find an appeal that is both high-end and livable. Some notable features are: leather seats, touch screen infotainment system, and oversized cargo-space.
Stinger has comfortable seating for five people, and will functionally fit two adults and two car seats. Leather upholstery, leather-wrapped steering wheel that's heated and a 12-way adjustable powered drivers seat are just a few favorite elements of the standard trim. Optional upgrades like Nappa leather, heated and ventilated seats, and a 16-way adjustable drivers seat appear in higher trims. LATCH is included for safe child seating.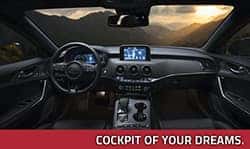 Stinger is comfortable enough for a road trip with seats that review as some of the most comfortable for the domestic premium class sports-sedan. The slope of the roof makes the back seat slightly lower, but the front seat is perfectly ample for someone a few inches north of 6ft.
Stinger comes standard at the base with Kia's UVO infotainment suite, which has a 7-in. touchscreen display, a six-speaker system, and more. Ample smart phone pairing shine throughout with Apple CarPlay and Andriod Auto, as well as Bluetooth and XM radio. Dual climate control gives a more comfortable drive for everyone. When starting up Stinger, you have push-button start, but also proximity entry, which unlocks your car when it senses you approaching with your keys in hand. Rear and front parking sensors and a rearview camera are also on the base model.
Some available upgrades in higher trims included an extra inch on the UVO touchscreen, integrated navigation, a Harman Kardon surround sound system, and a moonroof. Safety features like FWCS (forward collision warning system), pedestrian detection, automatic high-beam lights, blind spot monitoring, rear cross traffic alert, adaptive cruise control, and rain sensing wipers are all optional safety features.
Stinger is a sporty ride that can serve up the fun as well as the function wherever you are. Drive one in Portland today!